Finding a great front tine tiller is a good thing to do, but you will find that it can be expensive as well. I know for some of the tillers they can cost almost as much as a compact new car. So you will want to make sure you are careful when you are looking at the tillers to make sure you find the right one for your garden, but it is also important to make sure you are sure of what you want to get from the tiller and how long you will be using it. If you are not using this these tillers on a regular basis or if you are going to only garden for a year and quit, then you could have some problems with the tillers you were going to use and that can easily come in the form that just like a used vehicle you will have trouble getting your money back out of these. So make sure you are getting a good tiller and one that will work for your garden for years to come. That is why we have decided it was time to do our Cub Cadet FT24 Front Tine Tiller review here.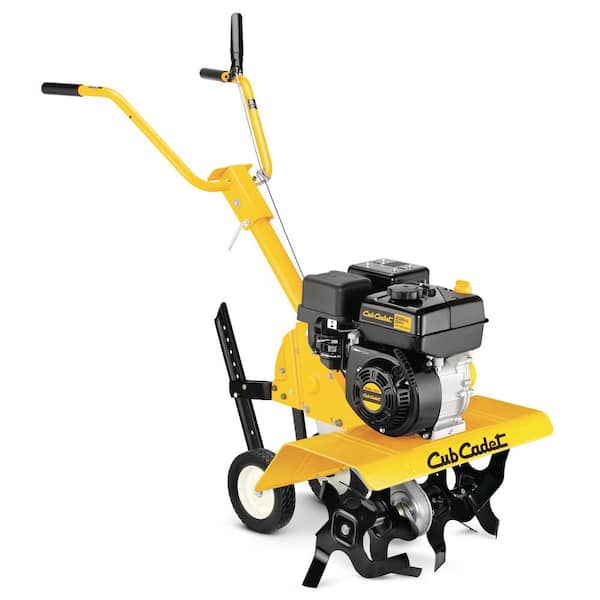 The tiller is going to have a strong motor that is going to be able to help power the tiller through the most compact soils that you have ever experienced. This can even include the strong clay dirt that can be found in a lot of the yards that you will be working with at times.
With this tiller, you will find that it can be adjusted in the width of the tiller to suit your garden, but also to adjust to a cultivator. So you will not have to be concerned about not being able to use the tiller all year long. Instead, you just have to adjust the tiller to the width you want as it will adjust from 13 inches to 24 inches and a 22-inch setting is also seen as well.
When you are using this tiller you will find the rotation is going to turn around at a rate of 125 rpm. This will make it easier for you to have a great time because this type of rotation will definitely get the ground torn up and ready for you to plant in without having to waste a lot of time.
Buy The Cub Cadet FT24 Front Tine Tiller
What I Like About This Garden Tiller
Ease Of Starting
This is something that is nice because the motor here is a good quality motor and it is going to really be easy to start. So you will not have to be fighting with the pull cord all the time to get the tiller started up. However, you will find that it does mean you have to maintain the motor or you could find yourself having some issues in getting the tiller started up.
Tines Can Be Adjusted In Width
When you are looking at a tiller you will want to make sure you can use this for other purposes and that is what you can do here. This is a tiller that will be able to help you get your rows ready, but you will find it will also make it easier for you to have a tiller that is going to start to get some of the weeding done that you want to get done during the growing season.
What I Dislike With The Cub Cadet FT24 Tiller
Depth Marker Makes It Hard To Maneuver
When you are using this you will notice the depth marker gauge, even if you have it set back to the location and depth it should be is going to be swinging all over the place. This makes it harder for you to move the tiller without digging up more of your ground. At the same time, this can be overcome if you have some of the different ties around you can use it to keep this up, but it is a pain to do and often means it will involve getting dirtier since this is the part that would be in the ground.
My Final Thoughts On The Front Tine Tiller
This is a tiller that seems to have a higher price than a lot of the other front tine tillers that we have reviewed. So this is definitely a concern and it could be an issue if you are looking for a garden tiller on a budget this will not work for you. The tiller is one that you are going to like because it can get through a lot of the ground you are going to need to get through, but at the same time, the price is high! For the Cub Cadet FT24 Front Tine Tiller I would have to say this is a pass, unless you plan on using the heck out of it because the motor is good.
Buy The Cub Cadet FT24 Tiller Today